If you've been waiting all summer to find the sexy, made-for-curves swimwear of your dreams, summer isn't over yet. And lucky for all us plus size baddies, Nina Sharae Resort & Plus Size Swimwear serves up quality material and sexy designs that are available throughout the year. CEO and Founder, Nina Sharae, is giving the girls exactly what they want (and been asking for) to look amazing beach side
It's not just about the sex appeal for Nina Sharae, though. For this 30something swimwear designer, it's more about rolling out the red carpet in the form of representation, understanding, and empathy that makes her a designer that you'd want to know.
I'm not sure how you feel about being seen in a "fatkini" or one-piece swimwear, but I absolutely love it and always want other plus size baddies to feel the same way.
(Important side note: you're a baddie even if you think you aren't!)
In the words of Sharae, "I'm always naked. I like being naked," and the freedom of not overthinking while wearing a swimsuit is amazing! The feeling of knowing you look good gives off the most indescribable, energetic burst of "HELL YES". Nina Sharae brought all that energy (and then some) to Miami Swim Week 2023 with the Nina Sharae Experience.
Nina Sharae has one question: "Where the fly swimwear at?!"
With her energy and confidence bursting throughout the interview, it's no secret that Nina Sharae's incredible personality is stitched into every swimwear piece she creates.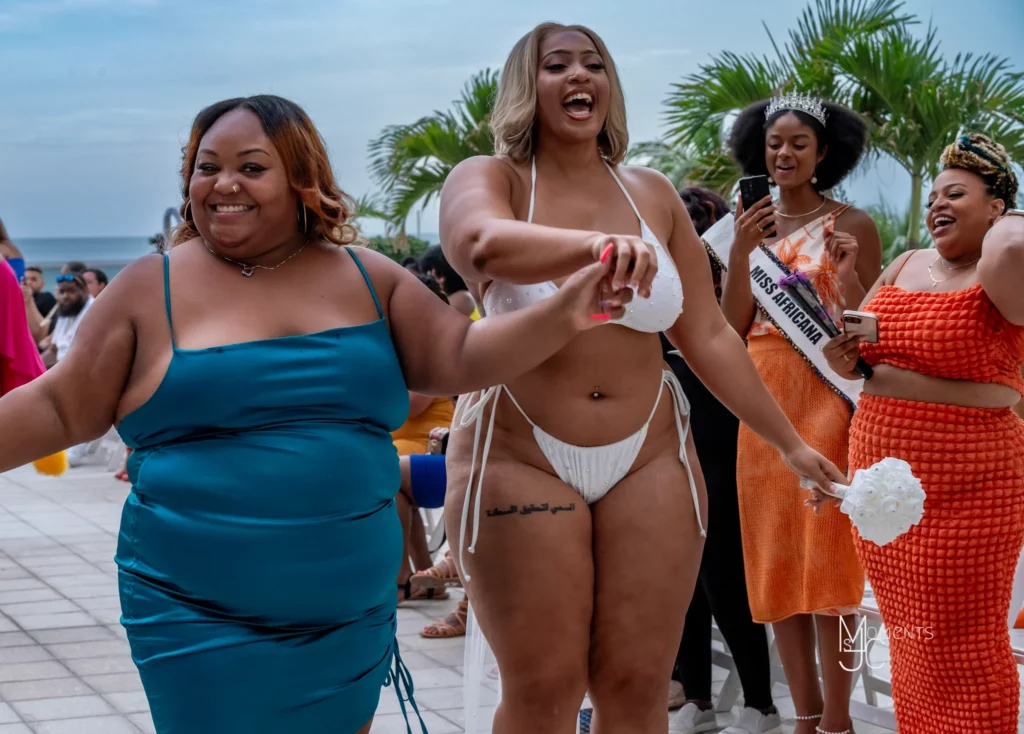 Promoting grand body positivity, incredible fashion sense, and the confidence to step out in one of her infamous swimwear designs, Sharae doesn't want her audience/shoppers to ever feel less than fabulous. And with 10 years of swimwear design under her belt, Nina knows a thing or two about creating a quality unit good enough to get wet, and even better to be seen in.
At her recent all plus sized fashion show, she was able to showcase her talents and love for exclusive swimwear designs one model at a time. However, before there was a "Nina Sharae Experience," Nina was a designer hopeful wondering, "Where are the fly swimwear at?"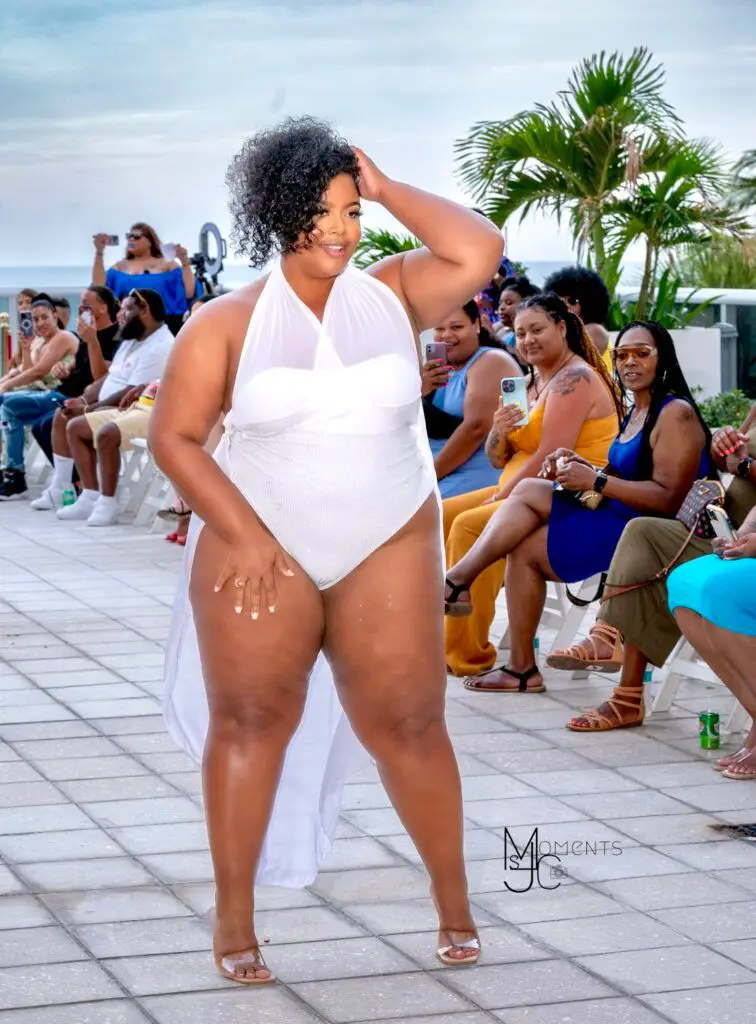 "The frustration derived from me not having many swimwear options. I wanted to create swimwear that looked sexy. At the time, everything that was coming out (regarding swimwear production) was black, brown, and blue; grandma print & hibiscus. If I want to be on baecation with my man, I don't want to look like his grandma or his momma. I want to look like his woman," Sharae shared.
Let's keep it real — Nina Sharae is right. Plus size swimwear wasn't always attractive, or sexy like it is now. I remember shopping in Walmart in my early 20s and not seeing the kind of selection with sex appeal that I would have wanted to see as a young woman showing off my curves for a pool party or beach trip.
My smaller friends always had options of fun and flirty swimwear designs that would make them look fantastic. I always wanted the same experience…but with a bit more material.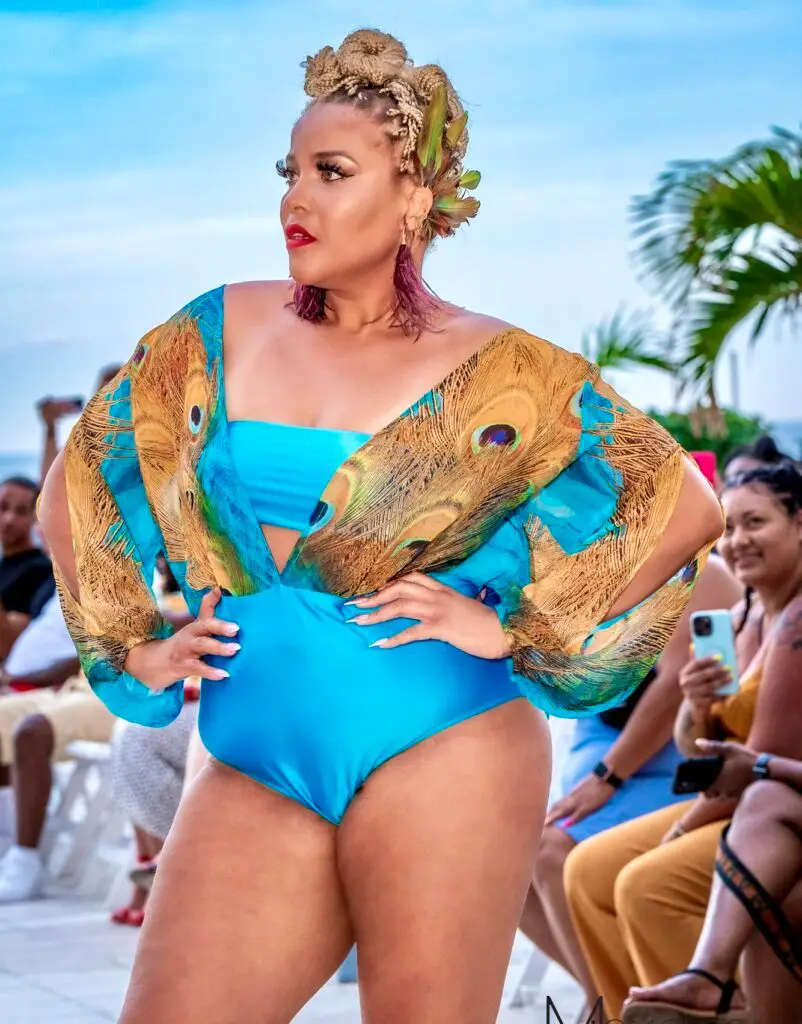 Nina Sharae Resort & Swimwear shows the world that — yes, it's possible to make plus size swimwear attractive. Plus size swimwear can embody confidence, flirtiness, fun, and sexiness. The Nina Sharae Experience finally makes the plus size community part of that experience.
The big buzz of plus size swimwear hit the scene around 2014-2015 when the plus community first had our selection of sexy and (sometimes) affordable swimwear with matching accessories. If you look at the evolution of plus size fashion over the last (almost) two decades, it's easy to see the rise, fall, and steadiness of some of our favorite plus size fashion brands and designers.
With the recent pandemic and current economic climate, it's always refreshing to see when a brand has weathered the storm, creating longevity and brand power in front of us to witness. The Nina Sharae brand is no different.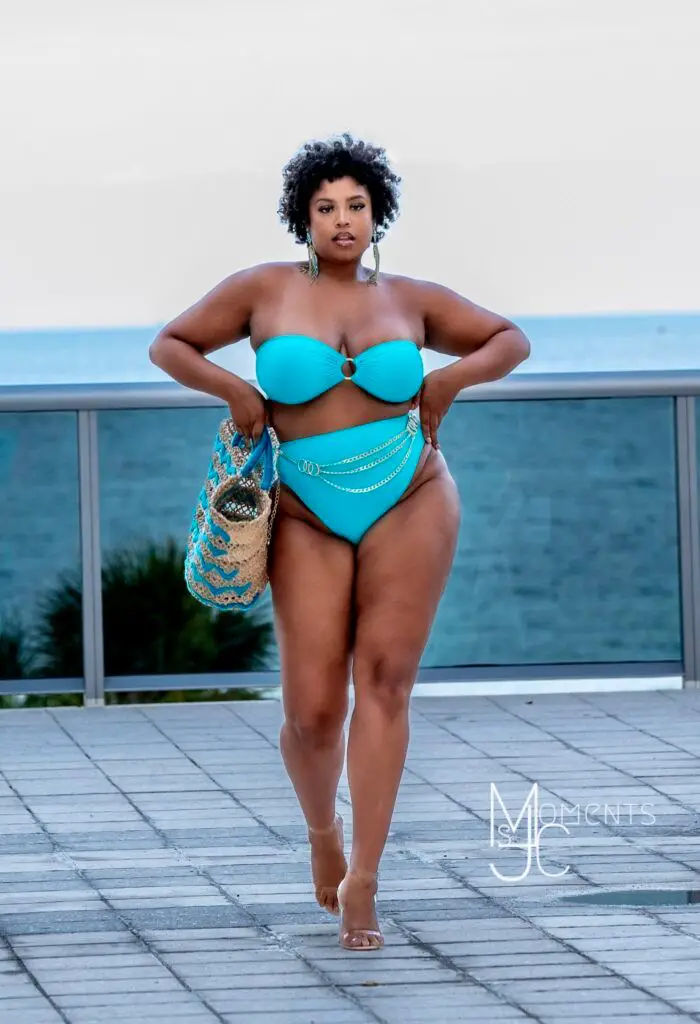 Currently, the designer has her sights on pushing her brand in collaborations with cruise ship destinations and resort commerce, along with other retail brands geared towards plus size fashion.
It's difficult to limit how much time I spend talking about Nina Sharae and her brand's backstory, but her epic activation, "The Nina Sharae Experience" is begging to be talked about.
Picture this: fabulous models overlooking the Hilton Cabana Miami Beach walking to music that makes it difficult to sit still, the palpable energy of the crowd, and endless fun partying on a yacht for the turn up! You'll definitely want to gather your girlfriends or plan a solo trip to Miami for the Nina Sharae Experience 2024.
The 2023 Nina Sharae Experience at Miami Swim Week
In July, Nina Sharae promised to "show them how a production is supposed to be done for plus girls!" at Miami Swim Week and *spoiler alert* she delivered.
Showcasing different ethnicities, genders, and body types, Nina wanted to show Miami that beauty isn't limited to the one-size-fits-all version that society loves shoving down our throats without seasoning. I had the opportunity to sit down with Nina, getting the juicy details regarding all things Nina Sharae and her legacy as a plus size swimwear designer.
Sharing the overwhelmingly positive feedback from her plus and positive swim event, Nina raved about the warm embrace of being able to celebrate her 10 year anniversary. The models enjoyed walking for her, the crowd experienced what many said was "an amazing" show, and Nina was able to bring the party to Miami in ways her guests weren't expecting.
Not a single detail was spared, as best illustrated by her signature cocktail, "The Nina Sharae Experience," served up by her sponsor, Duke & Dame. Having models of all heights, ethnicities, sizes, and body types, Nina was able to buck an old standard of simply featuring the "socially-acceptable" plus size body. (You know the one: just barely on the cusp between straight and plus sized)
With feedback acknowledging how "refreshing [it was] to see women who looked like them to hit the runway," Nina doesn't plan on stopping any time soon. She's busy ushering in a wave of confident curves showcasing her esteemed swimwear.
In fact, that's her ultimate goal:
"It's not all about the swimwear for me. It's about promoting confidence. If I can help boost your confidence through my swimwear and show the world that we are not lazy as plus size people, that's my goal. We are not lazy! We're desirable! We like luxury things! We push foreigns! We like jets! We're on yachts!"
That is my vision for Nina Sharae because I do all of that stuff. So my thing is if I can do it, I want y'all to do it. I don't want y'all to be scared on the beach because you think people are looking at you. We're not looking at you, girl! If someone is looking at you, they're looking at your confidence!", Sharae says.
I wanted to shout, "HALLELUJAH!" throughout the interview because Nina Sharae was speaking to my soul. As a plus size woman who absolutely LOVES wearing sexy swimwear, I've been on the receiving end of some ugly stares before.
You can shop and plus size swimwear at NinaSharae.com!
We all know the heat felt from someone thinking that you shouldn't wear a certain something, or that infamous, "Who does she think she is?," vibe that can come unwarranted. To those people, I always wanted to say, "STOP HATING! Plus size swimwear isn't going anywhere…and that's on PERIOD!"
When asked about 2024's event, Nina said, "It's going to be BIGGER and BETTER!" To that, I raise a toast for her success and growth! You can view the Nina Sharae runway show from Miami Swim Week on Youtube.
To learn more about Nina Sharae Resort & Swimwear and shop the sexy plus size swimwear, please visit www.NinaSharae.com and receive 30% off your purchase with promo code: TCFSwim.
Source link